Gracie University:
As part of your membership you are automatically signed up on Gracie University – check email 29 March for your login details.
Adults please go to www.gracieuniversity.com kids please go to www.graciekids.com
Here you are able to watch the entire curriculum in your own time before/or after class.  Parents, this is a great way to see what your kids have learnt and help them learn the techniques in more detail off the mat.
April Class Schedules:
The latest schedules are available on the website.
Please take note of the days we are closed on the upcoming Public Holidays
Master Cycles students please note the change in GI & No GI Classes as follows – Monday & Thursday are No GI – Tuesday, Friday & Saturday are GI Classes
Parents – please note we have now added a Kids monthly calendar to help keep track of closed days and events.
Imported GI's:
We have sourced a great quality GI at R1500 each.  We need to place a minimum order of 10, as soon as upfront payments have been received we can place our order which will arrive 2 weeks later.
Please see pictures below, we have a few Black & White Large Gracie Patches we can stitch onto the back at an additional R250.
Please contact robyn@graciejiujitsu.co.za to place your order as soon as possible.
Matt Thornton Seminar:
Matt Thornton returns to South Africa to conduct a series of seminars in Cape Town and Johannesburg. Matt as a coach has awarded fifteen of his own Brazilian Jiu-Jitsu black belts. That list includes famed UFC coach, John Kavanagh, the trainer to UFC legend Conor McGregor, for further details, please see the poster below: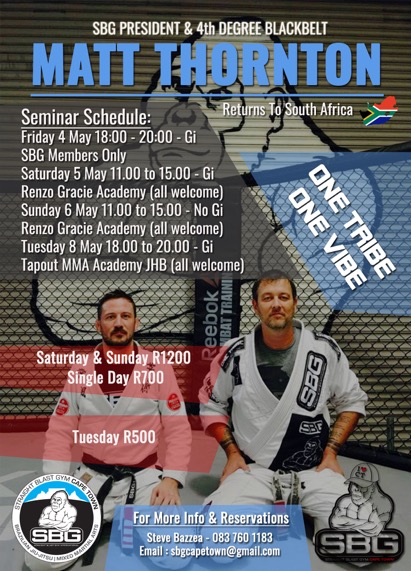 Wishing you all a safe and happy holiday weekend!